December 23, 2013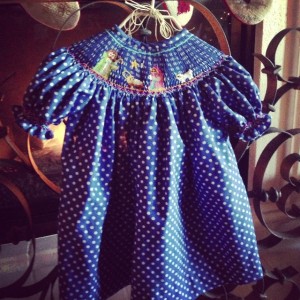 In the words of the prophet Isaiah, "…He has sent me to …bestow on them a crown of beauty instead of ashes, the oil of gladness instead of mourning, and a garment of praise instead of a spirit of despair…" Isaiah 61:1-3
Each one has a battle to fight,
Each one has a burden to bear.
God's Hope became flesh incarnate,
Entrusting mankind to His care.
God offers His garment of Peace,
His robe of Joy for thee,
So celebrate His gift of Life….
For the best is yet to be.
As a mother of a wonderful daughter, a mother-in-law to a beautiful daughter-in-love, and a grandmother to four lovely grand-daughters, my world is very PINK and the season of Christmas begins with the search for the Christmas attire for the little ones; but the ultimate quest is the mission to find the perfect Christmas dress for each one!  One of my favorites was a smocked dress with images of the Nativity scene embroidered on the yoke…Ah yes, the perfect Christmas dress, when in truth, the images engraved in my memory are not the dresses, but the faces of the children as they reflect the joy and the wonder of this beautiful season…As they discover the truth and meaning of the season…As they discover the love of their Heavenly Father…As they learn about and experience the miracle of Christmas…
In the words of the prophet Isaiah, "…He has sent me to …bestow on them a crown of beauty instead of ashes, the oil of gladness instead of mourning, and a garment of praise instead of a spirit of despair…" Isaiah 61:1-3
This Christmas is no different as past years as many of our friends and family are in places of rejoicing and contentment with their circumstances…while so many others are finding themselves in places of despair and hopelessness…whether it is a catastrophic health issue, a financial crisis, a loss of a loved one, a marital failure, or wayward and lost children…As we all know, the Christmas season is not exempt from the challenges and the tragedies of life, even though Christmas is the season of Hope, of Joy, of Peace…And I am amazed at the Almighty God and how He gives His Grace in the midst of life…
Each one of us knows people who defy catastrophe and tragedy with inexplicable courage and serenity and we marvel at their faith, or their fortitude, or their peace…all inexplicable…
Once again, during the Christmas season I find myself shopping in the groceries stores, watching people, but I am certain that many of the trips are just an excuse to experience the hectic hustle and bustle of the joyful season.  At this stage of my life, I love to stand in the check-out lines with shoppers, hoping to get into conversations, pleasantly surprised when people engage and saddened for those who are burdened, stressed, or in despair.  I am convinced that what we harbor inside our lives through-out the year seems to surface for exhibition during this season…giving opportunity for the body of Christ to "reach into" lives of…  strangers…or acquaintances…or those we love.
While in the grocery store a few years ago, days before Christmas, I rounded the corner of an aisle to see an elderly woman whom I had first met when I was in elementary school. We had just moved to Waco and she had been very kind to my mother and to me.  As I grew up, she continued to be friendly each time I encountered her; then, in college, I attended a dinner party in her home, and once again, she was gracious and exhibited the gift of hospitality to all of her guests.
As I approached her basket that day in the store, I was amused by her attire.  There, before me, was a small elderly lady in a long red dress, a bright green jacket, with a Christmas flower pinned to her lapel, and tennis shoes. She was looking down at her shopping list, and as she looked up, I was surprised to see her smile and her face glowing with what I would call, Christmas joy. I had heard that her husband of many years was seriously ill and from my life experiences, I knew that Christmas and other holiday times are often especially difficult when a loved one is ill.
However, when this sweet lady looked up and smiled, her face was filled with a peace and joy which might have been inexplicable to some.  As I stood, briefly remembering my experiences with her, and knowing what she and her husband's lives had meant to our community with their generosity and their faith, I realized that God had given her His peace which truly surpassed any of mankind's understanding.  And obviously, as her attire suggested, she was celebrating Christmas.
She spoke softly as she recognized me and we talked briefly, and she wished me Merry Christmas.  As she slowly pushed her cart in the opposite direction of where I was going, I stood speechless for a moment.  I realized that she was anticipating Christmas, and she allowed God to wash away tears and fatigue, to celebrate the birth of His Son!  This sweet lady inspired me to always wear a Christmas dress (and tennis shoes) no matter what circumstances envelop me.  She believed that the best was yet to be!
She and her husband celebrated Christmas together that year and on a beautiful spring morning in the New Year, he left this world to go home to the Lord! The couple, together accomplished great things in the community and leave a wonderful legacy for their family.
The Christmas Dress
Yes, my grand-daughters have to search each year for their Christmas dress because their little bodies are growing…their mothers desire that these precious children learn to dress their bodies with garments of joy and praise as they celebrate Christ Yeshua, and more important, the two couples are teaching their children to clothe their hearts with praise and adoration, which is possible through the love and the favor of our Immanuel, no matter what the circumstances are in their lives. And I am deeply thankful…
My prayers this Christmas are for all of my friends and family to experience the deepest peace and joy of this season through the life of Christ Yeshua and a relationship with the Savior, no matter what the circumstances are in this life.  I pray this scripture over the lives of friends and family…
"I will greatly rejoice in the Lord, My soul shall be joyful in my God; for He clothed me with the garments of salvation, He has covered me with the robe of righteousness."
Isaiah 61:10
And my elderly friend, who wore her beautiful Christmas dress to the grocery store, does not have to shop to find the perfect dress…she can save her Christmas attire each year and enjoy it…she can wear it no matter what the circumstances are in her life…she can celebrate the miracle of Christmas…always and forever… And, as for me, she will always be the Christmas lady…wearing the Christmas dress, and tennis shoes, celebrating the day, celebrating life, celebrating Christmas! Our Almighty God makes Himself available to each one of us if we are willing to receive His incredible, miraculous gift of His garment of praise, of joy, of peace, of salvation, His righteousness through the birth, the life, and the death and resurrection of His son…born to us this day!
I also pray for you my friends, that you will always wear His garments of praise…that you will always wear your Christmas dress as you celebrate God's greatest Gift and as you share the Wonderful news with everyone…in the grocery store, in the check-out lines…with your friends, with your families…doing life together…on this journey through Christmas.
God offers His garment of Peace,
His robe of Joy for thee,
So celebrate His gift of Life….
For the best is yet to be.
"I will greatly rejoice in the Lord, My soul shall be joyful in my God; for He clothed me with the garments of salvation, He has covered me with the robe of righteousness."
Isaiah 61:10
Abundant Christmas Blessings!
Joyfully,