January 13, 2014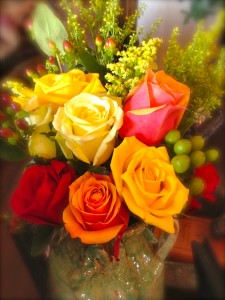 "I will praise You, O Lord, with my whole heart; I will tell of all Your marvelous works.  I will be glad and rejoice in You; I will sing praise to Your name, O Most High."  Psalm 9: 1, 2 (NKJV)
"Even the sparrow  finds a home there, and the swallow builds her nest and raises her young—at a place near your altar, O LORD Almighty, my King and my God!"  Psalm 84:3 (NLT)
Little Altars of Praise
Today, I celebrate with you,  who we are in a Savior who loves us unconditionally, who pursues each one of us with relentless, persistent, constant, continual, incessant, unrelenting love, who is the lover of our souls, who calls to each one of us by name…KALEO, the Greek word for invited, summoned, to partake of redemptive blessings, who passionately desires us, who longs for us, who delights in us, who restores us, who redeems us, who forgives us, who heals us, who values us….
And the challenging question, we must ask, as Daughters of Truth is,
"How do we respond to Him?"
I truly believe that our Great Almighty Heavenly Father gives us little altars of praise and exaltation in each of our days…but sadly, I am often busy, or distracted, or worried, and I often miss these moments…
It is interesting to me how our society messages planning and insuring for everything….when we grow up what will we be? Where will we attend college?, We save for the future; we lose five pounds for the big event; we plan the big event; we work on the house plans; we work on the business plan; we purchase the best policies for automobile insurance; boat insurance, motorcycle insurance, medical insurance, health insurance, life insurance, home-owner's insurance, pet insurance…and so the list goes on….even packing our pantries and closets with survival supplies for all of the "what if's"…and there are many of the what if's!  And all of this planning is good, smart and wise as long as we keep and do not lose or forfeit the perspective of "the moment".  The moment of life when our Almighty God speaks and moves His Hand over our lives to give a gift of remembrance…a gift reminding each one of us that He remembers us…that He thinks of us…that He adores us…that He pursues us and that He yearns to meet with us… to give to us "A Little Altar of Praise"…
This past Thursday morning, I knew that the storm was passing…the day dawned and the moments with my Father were full and rich and beautiful…I knew that He remembered me…He was thinking of me…the storm was passing and I took time to embrace the moments and "Little Altars of Praise" on that morning…
All of you have storms…some of you are in the midst of the worst…others are seeing the storm move into the horizon, while others are anticipating its arrival…But our Adoring Heavenly Father meets you in the midst of the wind and the waves…He remembers you, He thinks of you, He adores you and He pursues you and yearns to meet with you…and to give you "His Little Altars of Praise"…in "the moment"…
When our son and daughter-in-love became engaged in Baton Rouge, and the planning and the excitement began, a dear friend called me one day to remind me to "enjoy each day…enjoy each moment" and of all the planning.  It is not just about the event, it is about the moments, each moment." Fortunately, I took her advice, and I have beautiful memories of "the moments" with our son, his bride, her family, friends and our family, all the moments, including the event! And they are priceless!
I have often thought back to that advice and how it applies to "life", to all parts of life.  I heard this message explained in another way this past week.  A beautiful and dear woman left this earth to claim her eternal home, the place that her Savior had gone to prepare especially for her…And although there was great celebration of her beautiful life lived with love, compassion, adventure, laughter, and integrity, there was and is great sadness for those whom she left behind because their lives are to be lived without her daily presence. But the message so beautifully delivered by Pastor Mark Wible at the Celebration Service reminded us and inspired us to live and to embrace the moments we have. He used the illustration of the dash between the time of our birth and the time of our death, to ask what had been done with the moments of life…or the "dash" of the moments?
And for Anne, there were countless "Altars of Praise" that she had embraced, and that she had cherished and that she had appreciated as gifts from her Loving Heavenly Father; most important in her life were her two sons, two grand-children, and countless friends…and the best "Momma burgers and Momma fries", as she served those she loved.
On Thursday morning, I encountered several " Little Altars of Praise"…the first was the song of a tiny bird on our patio; there was no doubt as the sun arose, he was singing his morning anthem to his Creator…A song of praise in the midst of a storm of life…
And then in Psalm 8, God's Word spoke the Wonder, the Hope, the Majesty, the Glory of the Lord into my heart…and it stirred…as "A Little Altar of Praise"…
As I drove a grand-daughter home to her parents later that day, I listened to the eighteen-month old sing to the children's praise music playing in the car. She has her own language,(as they all do) but I could not remove the smile from my face or from my heart as she almost shouted her attempt at melody and message…If the music stopped, she stopped…and when the music started again, so did she… "A Little Altar of Praise"…
"O Lord, our Lord, the majesty of your name fills the earth! Your glory is higher than the heavens.  You have taught children and nursing infants to give you praise. "Psalm 8:1, 2
In my thirties, I begged God for more children! Due to demanding health circumstances in our family and for other reasons, Bill and I had decided that our family was complete unless God decided otherwise.  But when a close friend had the blessing of adopting a beautiful baby girl, all the feelings and the desires returned…I wanted another baby!   I whined and complained to God…Not only did I beg God, but I even resorted to sitting in the Wal-Mart parking lot… (a friend had told me that she knew someone who was at Wal-Mart and a lady just walked right up to her and said that she needed someone to raise her baby)…That was it!  Maybe that would happen to me! So, I would take lunch and sit for an hour or so, just watching for pregnant women who might need me! (Yes, how tragic that a woman…that I, would be in such a state…As I look back, I am so thankful that the police did not arrest me for loitering or for suspicious behavior!  Certainly, they would not have believed my story. )
One day, with God's help, I chose to embrace "the moment" and to enjoy, appreciate, relish, adore, take pleasure in the blessings in my life…My two beautiful children…my precious children…a son and a daughter…and a loving husband…And I was also blessed to care for my mother, my father, and my two grand-mothers in their illnesses during these years. I arrived at an understanding that as much as I desired another child, an infant, the Lord had entrusted His grown-up, adult children with me to love and to care for…and I began to look at them differently. I had always loved them, but I began to see them as God's precious children, and He was trusting Bill and me to love them too. There was no one else in their lives to care for them. What difference did the age of the people make when they needed love, care, and God's touch through my hands, through our hands…embracing "the moment"… "Little Altars of Praise"…
And the Lord blessed the choice to embrace "the moment"…
He gave me the privilege of teaching and loving hundreds of teens at Texas Christian Academy in Waco, TX.…I called them my spiritual children…
He has given to us our children's spouses and their families to call ours…He has given us four beautiful grand-daughters…and a precious baby on the way…He has given to us LIFE!
Yes, how faithful is our Almighty God…even when we don't get our way, His way is divine…perfect…wonder-filled…true…righteous…
"You have turned my mourning into joyful dancing.  You have taken away my clothes of mourning and clothed me with joy, that I might sing praises to You and not be silent.  O Lord, my God, I will give you thanks forever. "Psalm 30:11, 12
There truly is a sense of mourning in the heart of a woman who desires children…certainly if she is not conceiving or if she has lost a child, but also for those women who desire to have more children…But, I experienced the amazing grace of our  Lord and because of the faithful intervention of God's Spirit, I was able to choose to accept the will of God…and as I chose to honor that…and as I chose to honor my husband and to trust him, because my husband was and is worthy of my trust; and because my Heavenly Father is even more worthy of my trust, there is much joy…I am clothed with joy…and I do not want to be silent…I will give thanks to Him forever…I will sing praises…just like my grand-daughter does… "Little Altars of Praise"…in "the moment."
I have made a concerted decision to appreciate and to embrace the "Little Altars" God gives to me…to receive the gifts of remembrance that He gives to me… to yield my heart and my praise to Him… to make music with my life to my Almighty God…On that Thursday morning, I knew that the storm was passing and I embraced "The Little Altars of Praise" that God gave me that Thursday  morning:
The anthem of the tiny bird…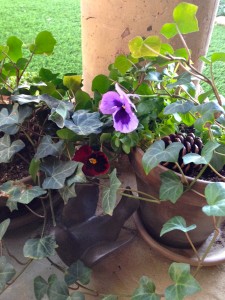 The Word of God that stirred my heart, my spirit…
The incredible water-color morning sky, painted by our Master's Hand…
The beautiful flowers and ivy that survived the deep freeze that Austin had just encountered…
Meeting two women that morning, one who encouraged and blessed me, and one who needed hope and invitation, and encouragement…
The blessing of my family…my home…
The Joy of my Salvation…
Each of these blessings was a daily opportunity to exalt and to praise Emanuel, the God who came to be with us…the God who is with us…the God whom we celebrate…the One who is our All in ALL…
Little Altars of Praise
Today, I pray for those who are mourning and grieving over the life of a child or children, for whatever reason…I pray that God's Grace will cover them and will fill their hearts with His love and remembrance…I pray that a " Little Altar of Praise" will intervene in "the moment"…
I pray for those who are mourning and grieving over the loss of a loved one…I pray that they would be able to see the beautiful gifts of remembrance, of love and of intention from the Loving God, our Heavenly Father…I pray that they will feel the embrace of His arms and the heart of His love…
And I pray for each of you as you rejoice today.  I celebrate the great moments with you as you live your lives…as you embrace "The Little Altars of Praise"…
I close today with the last Psalm in the book of Psalms, 150.  May we celebrate with every instrument of our lives…May we know His truth…May we sing His truth…May we dance His truth…May we Live His truth…
May we embrace the "Little Altar of Praise" today…and for always…in "the moment".
"Praise God in His sanctuary; Praise him in His mighty firmament!
Praise Him for His mighty acts; Praise Him according to His excellent greatness!
Praise Him with the sound of trumpet; Praise Him with the lute and harp!
Praise Him with the timbrel and dance; Praise Him with stringed instruments and flutes!
Praise Him with loud cymbals; Praise Him with clashing cymbals!
Let everything that has breath praise the Lord.
Praise the Lord!"
Psalm 150
May you live and praise your Heavenly Father today…May you live with a child's faith…
May you praise with a child's heart…May you dance with a child's joy…May you shine as God's Love…
Abundant joy,