May 5, 2019
Whispers of Grace
"For of His fullness we have all received, and grace upon grace." John 1:16 (NASB)
There are times when Grace floods our lives…but, often, Grace rains gently, whispering quietly; but His Grace is there each moment, each day…each season, Grace upon Grace.
Oh my…if you are like me the 'Spring-time in Texas' presents beautiful gifts of Creation as the wild-flowers literally spring up from the barrenness of winter to create a dazzling display of God's handiwork.  Bluebonnets are a unique expression growing primarily within the state of Texas, as their splendor adorns the fields, pastures, and lawns, declaring the arrival of spring.
This year was particularly magnificent!  So magnificent that I found myself prematurely grieving the departure of the indigo blanket covering much of our property.  However, I failed to remember, to think about, and to hope for what would come next…I forgot to remember…
I Forgot to Remember…
Today, as I drove home and entered our gate, I was greeted by the beautiful display of God's miraculous handiwork…Within weeks, the blanket of color spreading across the fields had changed from the deep indigo, into the colors of what had come next…God's handiwork was painted across fields, pastures, and lawns…in a new display…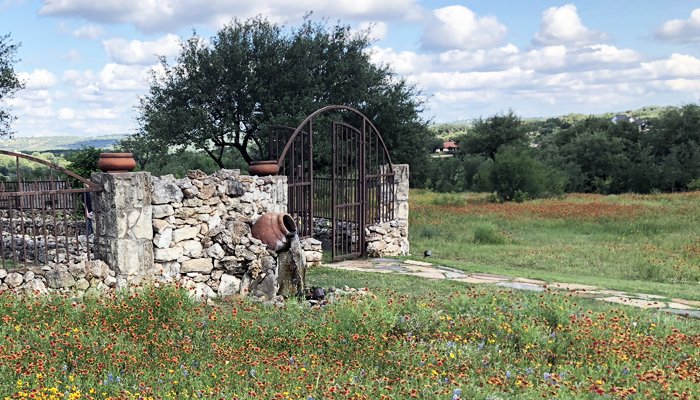 You see, I had forgotten to remember that with the fading of the bluebonnets, nature had been intentionally equipped by our Creator to present its next display of splendor…His Splendor!
I Forget to Remember…His Grace upon Grace
This morning, I was struck by the awareness of how I often live life…loving the moment, the day, or the season, yet, running ahead to grieve the passing of time, when change must come…Forgetting to Remember.  Or conversely, the times when life is filled with disappointment, and barrenness, even sorrow, and grieving in the present, I forget to remember…Change does come, and God equips you and me for these moments of today and tomorrow.
I so often Forget to Remember that when we live our lives in faith, placing our Hope in Jesus Christ, there will be times when Grace floods our lives, like a deluge, but more often, Grace rains gently, whispering quietly; and because of Jesus Christ, His Grace is with us each moment, each day…each season, Grace upon Grace.
When we walk in faith and in relationship with our Father, life, like the fields of wildflowers, presents itself in His perfect timing, in His Ways, with His Presence and in His Sovereignty. His presentation may not be understood, but, we, as His children remember that our lives are filtered through His Hands and His Loving Heart. And each day, no matter what you and I experience, His Grace upon Grace is with us each moment, each day, and each season…His perfect Grace for the moment.
May we Remember…
May we as His people, remember… never forget to remember. May we remember that with God, there is a next moment, a next day, a next season…When the present becomes the past, the fields of our lives will still be filled and will produce His Splendor, His Beauty, and His Hope…because of His Grace upon Grace He showers upon our lives…
We, as His people, can and will live in the present moments…trusting His faithfulness…trusting Him to fill our hearts and our minds with His Presence and His Promise of abundant Grace.  Grace sufficient for the passing splendor of the wildflowers, or the passing splendor of a season of life…Grace sufficient for the passing seasons of sorrow that invade our lives at times…Yes, Grace sufficient for splendor, and Grace sufficient for sorrow…
Yes, my friends, I am learning-finally learning to Remember…to never Forget to Remember, with our Father and His Son, Jesus…there is a next moment, a next day, a next season…and each one is held in His Hands.  When the future, or tomorrow, or the next moment looks void and empty, may we remember the Grace upon Grace…His sufficient Grace that is enough…always enough. I pray that you and I remember…that we Remember to never Forget…God's Grace is miraculous…God's Grace is perfect, totally and completely sufficient…
As the fields of our lives change in color and in season…we are able to trust His Grace, Grace sufficient for each moment, each day, each season. Each day of our lives, may we calculate His Grace into our today, and His Whispers of Grace, into our tomorrows…His Grace is present and everlasting! And, we will remember to look with confidence, to trust Him, and to wait eagerly, peacefully, with great expectation for what is next…Grace upon Grace.
"And He said to me, "My grace is sufficient for you, for power is perfected in weakness…"
2 Corinthians 12:9 (NASB)
Love you in Jesus,